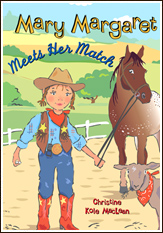 Details
Illustrated by Vicky Lowe
Dutton Children's/Penguin
Ages: 8 to 12
February 2007

ISBN:
0525477756 (Dutton, hardcover)
978-0142411803 (paperback)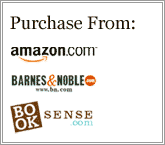 Mary Margaret thinks it's her luckiest day ever when her mom tells her the family is spending a week at the Lazy K dude ranch. Not only will she finally get those cowboy boots she's been craving, she will get to ride a real live horse! She figures that by her third day at the ranch she'll be good enough to go on an overnight trail ride and sleep with her horse under the stars.
Too bad her horse doesn't see things the same way. Terco just won't cooperate, and until she does Kansas, the riding instructor, won't let them leave the kiddie corral. Kansas is the best rider Mary Margaret has ever seen, and Mary Margaret is determined to win her over. But Kansas is even more stubborn than Terco. At least Terco seems to like sweet talk. Kansas doesn't seem to like any of Mary Margaret's talk.
When Mary Margaret feels too fenced in, she decides to take the reins. Will she end up impressing Kansas, or just seeing stars (the painful kind)?
Read this side-splitting book to see how Mary Margaret keeps getting back in the saddle again.
The Idea
With this Mary Margaret book, I decided to "write what I know." I grew up riding horses. Lady, our first horse, was red with a black mane and tail; she kicked me in the stomach. I learned not to stand behind her. Corky was a black and white Shetland pony who wouldn't do what I wanted. Ever. We sold him. I have no regrets.
Then came Shannon, a palomino Arabian mix. That horse threw me, fell on me, and—his favorite trick—lay down and rolled when he got hot, no matter who or what was on his back. Many times he bolted and all I could do was hold on tight until he came to a stop in front of the barn door.
I got a kick (ha ha) out of seeing how Mary Margaret would handle some of these same experiences. She is smarter and more self-confident that I was at nine, so where I had experiences, she has a real adventure. Yee-ha!
Reviews
Kirkus Reviews: ". . .generates laughs, suspense, poignancy, and a pointed life lesson. A delightful ride and one that is sure to make young cowgirls cheer."
Booklist: ". . .witty and heartfelt."
School Library Journal: "MacLean writes with a sense of humor and tenderness that fans of Megan McDonald's Judy Moody (Candlewick) and Paula Danziger's Amber Brown (Putnam) are likely to enjoy."