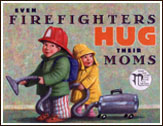 Details
Illustrated by Mike Reed
Dutton Children's/Penguin
Ages: 3 to 7
August 2002

ISBN numbers:
0525469966 (Dutton, hardcover)
0142401919 (Puffin, paperback)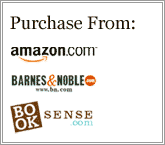 Using common household objects (and his little sister) as props, a little boy pretends to be everything from a firefighter to a garbage-truck driver. When he's fighting fires, serving and protecting, and rescuing people at sea, he's too busy to show Mom any affection. Still, she keeps reminding him that even these tough guys hug their moms. Eventually, even happily, the boy gives in. This lively picture book celebrates imaginative play and family togetherness as it pays a subtle tribute to today's heroes.


The Idea
It had never occurred to me to write a picture book until one morning in 1999, when my young son raced through the kitchen wearing his fireman's helmet, yellow rain slicker, and Tigger backpack, to which he had attached the vacuum cleaner hose. I asked him for a hug. "Too busy fighting fires," he said. And I thought (a little wistfully),"Even firefighters hug their moms."
The idea for this book and most of its scenes came to me right then, as I stood in the kitchen with an armload of dirty dishes. But with two small children, I was a little busy "fighting fires" myself. I made some notes in my journal and moved on. It wasn't until the summer of 2001 that I wrote the book.
I was finalizing the story when 9-11 happened. Like others around the country, I had no interest in or energy for anything besides trying to absorb the magnitude of the tragedy and make sense of what had happened. I set the story aside. It took me some time to realize that by working on a comfort piece, which Even Firefighters is, I might comfort myself and thereby begin to put my world back on its axis. I finished the story and sent it out.
I was pleased to learn that the book, which helped me in an intangible way, will help those directly affected by the events of 9-11 in a tangible way: Penguin is donating a portion of the proceeds from the book to the Twin Towers Orphan Fund.
Reviews
School Library Journal: "A good pick for sparking pretend play and maybe even an occasional embrace."
Kirkus Reviews: "When couch cushions become ground control for a space shuttle launch and a cage full of stuffed animals becomes a jailhouse full of criminals, it's obvious that some imaginative young people are hard at work…this story of imaginative youngsters is appealing."
Booklist: "MacLean really captures how single-minded children can sometimes be, and she gets right inside the fantasy world that allows a tower of couch cushions to become a burning building and a laundry basket to become an ambulance."
A Children's Book-of-the-Month Club selection
A Big Bird Bookmark (Sesame Street Magazine, October 2003)