Details
Flux/Llewellyn
September 1, 2006

ISBN:
0-7387-1029-6 (hardcover)
978-0738711638 (paperback)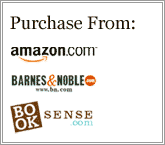 My dad had always said, "We may not be rich, but you can be proud to be a Passedge. Our family has a good name. Be careful not to sully it."
It isn't easy being a Passedge. Brought up in a God-fearing home, 18-year-old Grace feels trapped in a "suburban Alcatraz" by her overbearing father. Then she crosses paths with Michael Irving, a visiting professor at the local college, once. . .twice. . .and suddenly they are dating, secretly.
Attractive, worldly, and more likely to quote Shelley than scripture, Michael is everything Grace has ever
dreamed of--and he loves her. Through him, she begins to see things differently. "He's cracked open my whole world," she says. Freedom brings with it unanticipated complications, though, and Grace emerges from a cage only to find herself in a maze. She quickly discovers that being involved with an older man is not all poetry and chardonnay.

Reviews
School Library Journal: "A gently redemptive, compelling story of a young woman who wants to grow up too fast."
Publisher's Weekly: "MacLean's well-paced, first person narrative rings true. . .[and] will strike a chord with readers."
VOYA: ". . .the theme about finding one's true self is sure to resonate strongly with a lot of teens. MacLean's writing moves the action swiftly enough for reluctant readers, and girls, who like Grace relish romantic reads, will keep this book circulating."
TeenReads.com: "Completely orginal. . .a great book for opening up meaningful discussions between mothers and their [mature] teenage daughters.